This shop has been compensated by Collective Bias, Inc. and its advertiser. All opinions are mine alone. #ProtectFromPetMess #SeasonalSolutions #CollectiveBias
Fall is here! And when you have pets at home, that would mean mud and falling leaves getting dragged in at home. EVERY. SINGLE. TIME. I take my dog, Louis, out on daily walks. But that doesn't stop me from loving all things white and bright at home. I love and actually have a white rug in our living room. So I've developed a method of how I keep everything at home clean even with the occasional pet messes. So below, I'm sharing tips to keep your home clean and stain-free with pets this Fall season and sharing these Fall solutions too. Are you a pet lover like me dying to read these tips? Then read on!
How to Keep Your Home Clean and Stain-Free with Pets this Fall
1. Have a Carpet Pet Stain Remover Handy
If you have pets or just got one recently, the first thing that you HAVE to have at home is a stain remover. Have one handy in case of accidents – especially when you have little pups that you just started to house-train. I have the STAINMASTER®™ Carpet Pet Stain Remover for when that happens. While Louis is house-trained, on rare occasions, he would get stomach upsets that make him vomit. And if we don't get out the door on time, it's most likely going on the carpet. I don't worry at all because STAINMASTER takes care of it ALL. It's as if nothing happened! No stain. No sticky residue. No odor! It has been a lifesaver!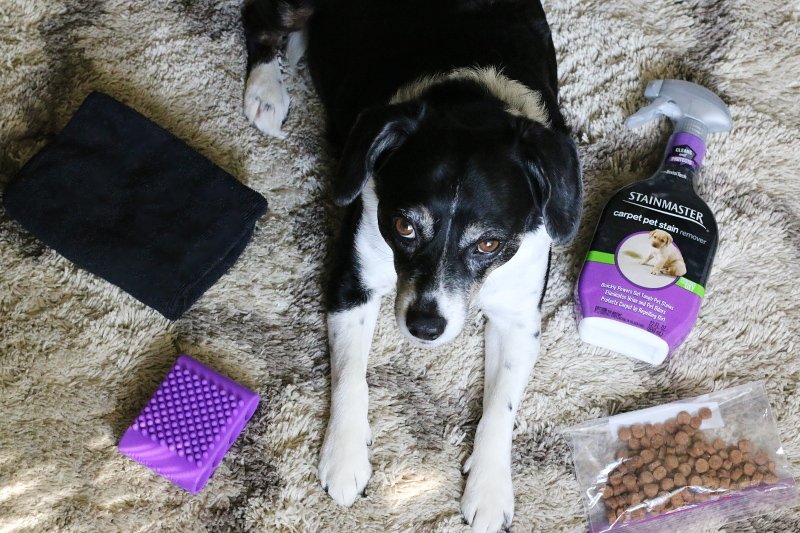 Interested in using STAINMASTER®™ Carpet Pet Stain Remover this fall season? Hover over the photo to click through to Target.com and buy it!
You can also find it at the cleaning aisle when you go on your next Target run.
2. Train Your Pet to Shake
I'm no expert pet trainer by any means. But my husband and I have taught Louis a few tricks over the years. One of those tricks is for him to shake his body/coat to shake off whatever dirt he caught from playing outside. Sometimes, he would sneak into some bushes or hedges and he would come out with some leaves dangling off him. So it's great help that he knows how to shake them off before he goes back inside our home.
So how do you teach a dog to shake it off (Were you singing when you read that too? Haha!)? This is how it started out for us. Dogs naturally do that body shake when they get wet or get groomed, right? So we made it a habit, after we give him a bath and while he's still in the tub, to let him shake off the water and say "shake" when he's doing it. So over time, he understood that his act of shaking his body is called "shake". Now, after we finish giving him a bath, when we say the word "shake", he would shake his body. We repeat it a few times, so he'd shake a few times to make drying time quicker. So now, when we're outside and I tell him to shake, he shakes before we come inside. Of course, rewarding with training treats can also greatly help speed up his learning process!
If you try to do this, understand that training doesn't happen overnight. You'll have to be patient and make it a habit, repeating over and over again until your pet learns it.
3. Keep a Rag or Towel, Wipes, and Spray by Your Door
Since our Louis LOVES to go up our bed and lay on the couch (FYI: I have a white sofa and usually have white bed sheets) I make sure he is clean right after he goes out. So I always spray him with a shampoo and water mixture I keep in a spray bottle, then wipe him down with a small towel. It only takes seconds to do but at least you won't see dirty paw prints on your sheets or couch.
For the mixture, I pour about 2 pumps or 2 tablespoons of his shampoo into an empty spray bottle. I fill it up with water all the way to the top and give it a good shake to mix everything together. I also have a toilet paper handy for wiping after he does his business. And if I ran out of a shampoo mix or when we're traveling, I have wipes for convenience. It's also nice to have a bigger towel by the door handy, for those unexpected rain showers. All these I keep by the door. But how do you keep these things hidden away, you ask?
BONUS TIP: Use a pretty basket to store all his cleaning supplies and keep it by the door for easy access. That way, you don't have to rush to the kitchen, laundry, or wherever you keep your cleaning supplies, only to get back and see him already rolling on the carpet, drying himself up. But if that ever happens, you've got STAINMASTER to use for any stains he leaves! Louis has already learned to stay by the door mat until I'm done spraying and wiping him down. Again, the trick to training him is through rewarding with treats!
4. Brush Your Pet Regularly
Brushing your pet's hair regularly will not only help with shedding, it will also get rid of dust and dirt he gets from playing outside. You don't have to do this every single day. Even if you do this weekly, you'll notice the dirt and pet hair collected by your vacuum reduced!
5. Keep Your Home Stylish Yet Functional
Finally, my last tip to keeping your home clean is to style it with functionality in mind. I already know that I don't want to give up my love for white furniture and rugs. So I had to make sure that furniture and rugs are placed intentionally, leaving room for Louis to walk on the floor and not directly on the white rug after getting in. I also keep an inexpensive all-black door mat that I don't mind getting dirty. The goal is to decorate your home so that it's not only stylish, but also functions well so that messes are avoided and cleaning is lessened.
How about you? Are you a pet owner who wants to share other tips and tricks to keep your home clean and stain-free? I like finding more solutions that can help with the pet messes. So please share away!
For more Fall solutions at home, make sure to check out this page. You can also find great Fall recipes, activities, and other Fall-perfect ideas over there.