This shop has been compensated by Collective Bias, Inc. and Conagra Brands. All opinions are mine alone. #ServeUpSummer #CollectiveBias
I don't know what it is about summer that makes me want to cook and host parties. Perhaps it's that feeling of vacation season, or the warmer temperature, the summer colors, and flavors that inspire me to host family and friends. So today, I thought I'd share this easy breakfast hotdog sliders to serve at your next brunch or backyard BBQ. Yeah, I called it breakfast sliders, but you can definitely serve this anytime of the day. I just love how easy it is to whip up when you have guests staying over. Let's begin, shall we?
Breakfast Hotdog Sliders Recipe
Hebrew National® beef franks are so delicious and can easily be added to your next BBQ. Add some hotdog buns, get the condiments like Hunt's® ketchup ready, and you're good to go. But how about we add some twist to this American summer classic? How about we slice up these franks and create a breakfast slider? Put them in a baking pan, toast in the oven, and let that cheese melt! Sounds good? Got all my ingredients at Walmart and the recipe is below.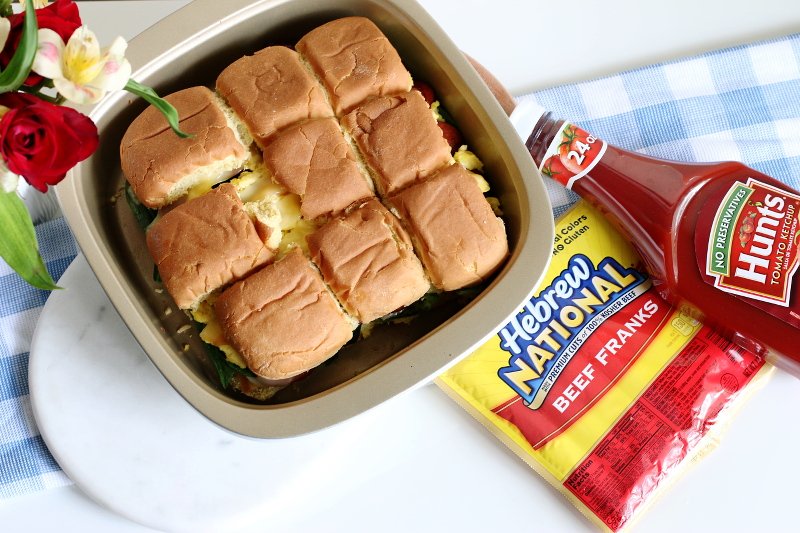 Interested in purchasing Hebrew National beef franks or Hunt's Ketchup? Hover over the photo to click through to Walmart.com and buy them!
Breakfast Hotdog Sliders
Delicious sliders to serve at your next summer cookout!
Recipe type:
Breakfast/Snack
Ingredients
1 pack of dinner rolls (about 9-12)
4 slices of your choice of cheese, cut OR ½ cup of shredded cheese, divided into two
Bunch of spinach, washed
4-6 Hebrew National Beef Franks, sliced and cooked according to package directions
4 eggs cooked (scrambled)
Salt and Pepper to taste
Hunt's ketchup as condiment
Instructions
Prepare a baking pan such as a square or rectangle cake pan that can fit all the dinner rolls. Cut the dinner rolls in half and put the bottom half in the pan.
Sprinkle ¼ cup of shredded cheese on top of the dinner rolls. If using sliced cheese, use 2 slices of cheese that were cut into strips.
Spread spinach on top of the cheese and rolls.
Now, line up the sliced and cooked Hebrew National beef franks on top of the spinach.
Next, add in the scrambled eggs and season to taste.
Sprinkle the rest of the cheese on top before placing the top half of the dinner rolls.
Place the pan in preheated oven at 350F degrees and bake for 7 minutes or until the top of the dinner rolls are light golden brown and the cheese has melted.
Now, you're ready to enjoy! Don't forget the Hunt's ketchup, of course. My husband absolutely has to have them in his sliders, especially when scrambled eggs are involved!
Wasn't that easy? I hope you like this Breakfast Hotdog Sliders recipe as much as we enjoyed devouring it. If you like this idea for your next summer soiree, brunch, or long breakfasts with the loved ones during the weekends, make sure you pin the image below. Also, don't forget to check here for more summer cookout inspiration.
Let me know if you try out these Breakfast Hotdog Sliders! Until the next recipe post. Xo.