This shop has been compensated by Collective Bias, Inc. and its advertiser. All opinions are mine alone. #SkinEssentials #CollectiveBias
Today at STYLEanthropy, I'm sharing a college beauty routine that you can do in 10 minutes or less. Since it's almost Back to School, I've been reminiscing my wonderful college years and thought I'd share tips to those who are facing a new school year. It was a time when I had to break free from my shyness and grow my self confidence. Taking care of myself helped a lot build that confidence and encouraged me to face my fears!
I remember my freshman year when I tried out for cheerleading. I was shy and nervous, especially auditioning in front of a huge crowd. But I encouraged myself and gave myself a boost of confidence and made it to the cheering squad. Preparing for that wasn't all about practicing my cheerleading skills or memorizing steps and chants. It was also making sure I felt confident with my look. Now I know how hectic college life can get. So I'm sharing an easy college beauty routine that you can do in 10 minutes or less with the help of the beauty products below. So you're not running to class early in the morning.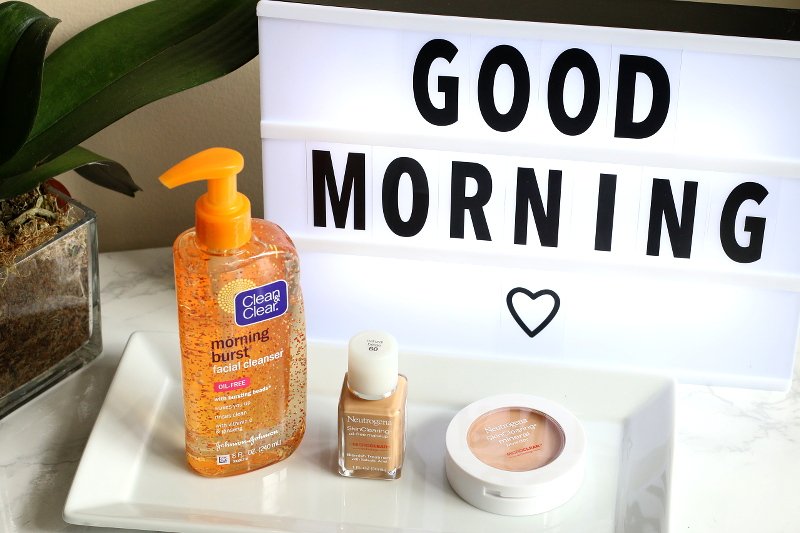 You can hover on the image above to shop the products!
College Beauty Routine in 10 Minutes or Less + Tips
Start with a clean and fresh base. So wash your face with a good cleanser. I love this Clean & Clear® MORNING BURST® Facial Cleanser in the morning because the smell wakes you up. I'm not kidding. If you haven't tried it yet, you should. It's definitely a burst of morning, thanks to the citrus smell. Follow up with your usual serum and/or moisturizer to keep your face hydrated the whole day. Moisturizer also makes for a good base when you apply your makeup.

After you're done with the skincare, it's time to do a quick makeup look. I don't know about you, but in college, I like to keep it simple and natural-looking. The key is all about a flawless skin. Try this Neutrogena® SkinClearing Liquid Makeup. It's oil-free and has MicroClear® Technology, scientifically shown to dissolve oil and help boost delivery of salicylic acid to the source of breakouts. Apply it with your choice of blending sponge or a brush. I like to have both handy. I use the sponge when I have time. The brush is when I'm in a rush and running late.

Next, do your brows. I've said it time and again, brows frame your face. You don't have to do anything crazy or complicated. Just follow your natural brow shape and fill in any sparse sections with your favorite brow makeup – whether it's a pencil, powder, cream, or gel.

Complete your look with a moisturizing lip color. The Neutrogena® MoistureSmooth color stick is nice because I don't have to put on a lip balm AND a lip color. I just have one product and I'm done. When I need a bit of flush on my cheeks, I even dab some on my fingers and tap it on the apples of my cheeks for a little bit of color on my face.

Finally, top it off with the Neutrogena® SkinClearing Mineral Powder. Again, it's oil-free and is a great powder foundation for acne-prone skin. It also has the MicroClear® Technology. I like putting on this powder on top to set all of the makeup and give my look a matte finish.
That's it. You're all done and ready to head out the door. Wasn't that easy? Only 5 steps to help you look good and feel good, so you can go about your day and face college like a boss!
P.S.
I know back to school shopping can be a handful. So if you're looking for ways to save, I found some good deals for you. I shop my items at Target and make sure I have their Cartwheel app handy.
They have great deals on Neutrogena® Cosmetics this August like 20% off any Neutrogena® cosmetics every weekend this month from Thursday to Sunday. For skincare, you can get a $5 gift card when you buy 3 Neutrogena® facial skincare products. And when you buy one Clean & Clear® product, you get one 25% off.
As always, if you loved these tips, make sure to pin the image above. And if you have any other tips you want to add to this, please do share them in the comments below. I'd love to know how you prepare in the morning before school!
Disclosure: This post is sponsored by CLEAN & CLEAR® and NEUTROGENA®. I only recommend products I use personally and believe my followers will also enjoy! Some of the products mentioned were provided by CLEAN & CLEAR® and NEUTROGENA® for this review.