This shop has been compensated by Collective Bias, Inc. and its advertiser. All opinions are mine alone. #MerrySpritzmas #CollectiveBias
The Holidays are always full of parties with family and friends. So your girl who loves to decorate, makes sure to keep the home nice, clean, and decorated all the way to the bathroom! Besides, aside from the entertaining space, it's the one room that people will definitely visit while at your party. But I'm not talking about spending a lot, nor am I telling you to renovate. I'm talking about little updates that you can do to make your bathroom ready for the holidays. I'm also sharing my latest discovery which is a game-changer in making your bathroom smelling good all day long!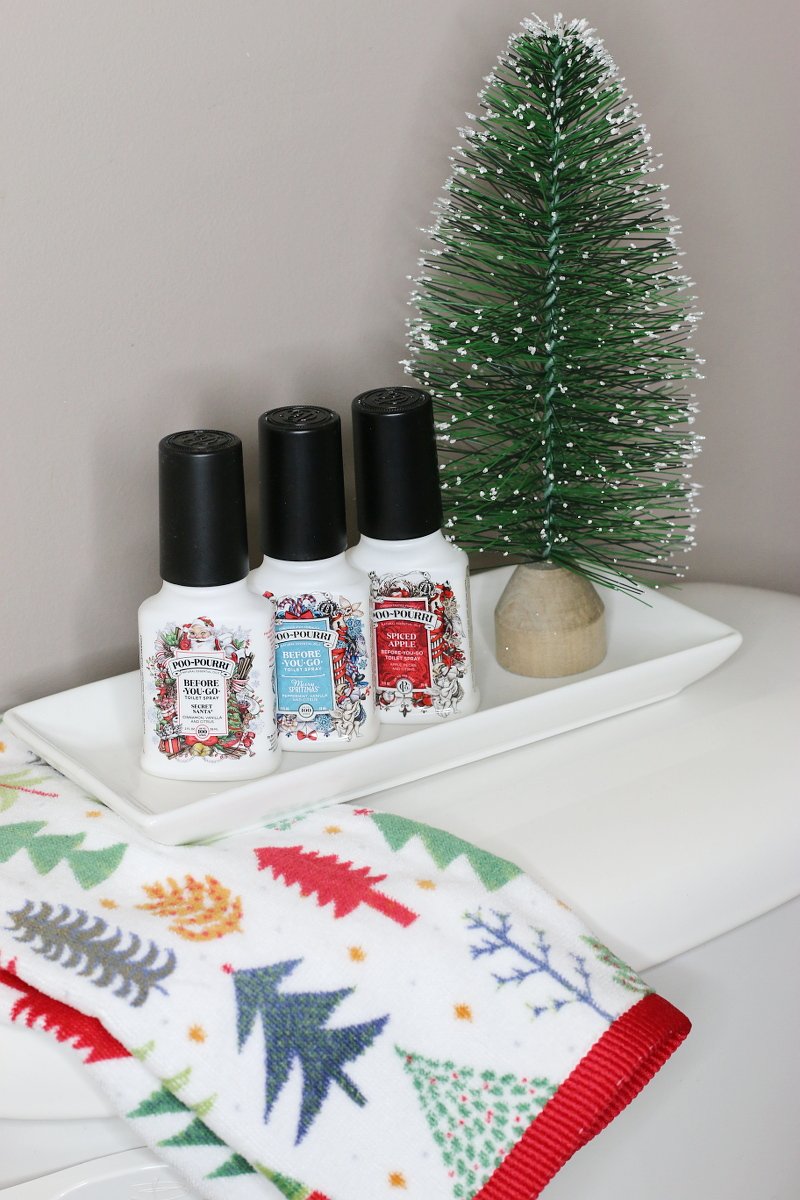 The game-changer that I was telling you about? Poo~Pourri Before-You-Go® Toilet Spray! Hover over the image and click on the products to purchase them right away because you are going to love them. What are they? What do they do? Don't worry, I'll explain more about them in my tips below along with a discount code too.
5 Ways to Make Your Bathroom Ready for the Holidays
HOLIDAY PRINTS – Changing up prints is the easiest and most affordable way to update a bathroom. Renovations can cost hundreds to thousands of dollars, but we only need a couple of bucks. Towels, bath mats, and shower curtains are the easiest items to switch up that make a huge impact on the feel and theme of a bathroom. There are so many bath accessories with Holiday prints. And more often than not, because they are seasonal, they're priced lower than regular ones. So whatever Holiday theme you've got going on in your main living space, try to bring it to your bathroom with matching bath accessories and linens.


HOLIDAY ELEMENTS – Often, bathrooms are ignored when it comes to holiday decorating. But it doesn't take a lot to bring that holiday feel into a small space. Even a simple ornament, a festive figurine, or wall art can easily bring that holiday feel to the bathroom. I've added mini Christmas trees throughout our bathroom that you can easily find at dollar sections. Thin garlands can be used on top of shelves. I also placed a gold moose figurine on top of our medicine cabinet as a final touch.


FLEXIBLE COLOR SCHEME – I know budget can be an issue especially this time of the year. So if you don't want to spend on new shower curtains, bath mats, or towels, using more neutral ones that you already have can work. I like to play with more flexible color schemes like whites, blues, blacks, grays, tans, and reds. How? By adding ornaments and/or getting one to two prints to mix with items you already have! For example, I just got this blue and white striped shower curtain and I didn't want to spend to buy a holiday print one that I can only use for December. So instead, I decided to hang red jingle bells to make it look more festive. You can also use any ornament you already have. You can use gold, silver, or green ornaments with it too. For the towels, I kept my plain bath ones and simply got two hand towels with Holiday prints that matched the color of what I already have. For bath mats, I kept my two plain blue mats and added one holiday bath mat for just in front of the sink. What's great with this blue and white color scheme is that I can use it for spring by adding pastel flower decor with it. I can use it for summer by adding beach decor. I have these shell design hooks that will look great with it. This would also work great for a Fourth of July theme, don't you think? Having a flexible color theme can help you decorate all year-round without spending a lot.




DECLUTTER – The best way to prepare your bathroom for a holiday party, or any other party for that matter, is by decluttering! Remove all unnecessary bath products on your counter or sink. When I'm getting my bathroom ready for guests, I try to think like I'm the guest. How many times have you gone into a bathroom – in a house or even at a public place – where you don't know where to put your bag, your glass of wine or cup of drink, your jacket, or your scarf? So I always make sure there's enough surface to put whatever they have on them, or a hook for any layers they need to take off just in case they didn't leave it at the coat rack by the door. If you have a small counter space, putting a small bathroom stool can help.

HOLIDAY SCENTS TO KEEP IT FRESH – Last but not least, decor won't matter if the bathroom stinks! So extend all the holiday feels to holiday smells in the bathroom. My latest discovery to keeping it fresh and smelling like the season – no matter if someone did a number two – is Poo~Pourri! Who else is laughing at what I just said? But hey, it works like a charm every single time. Sometimes, you can't help it and you have to go. But then there's a line of guests behind you and you try to hold it for as long as you can. Or maybe take too long inside the bathroom to vent it out and spray a whole can of air freshener hoping no one smells! Ahhh, the holiday stress of it all! But you know what? Poo~Pourri can help save the day and it's pretty simple to use. When spritzed into the toilet bowl before-you-go, Poo~Pourri's pure blend of NATURAL ESSENTIAL OILS creates a film on the surface of the water. That creates a protective barrier that traps odor under the surface, before it ever begins. All you'll smell is a refreshing bouquet of NATURAL ESSENTIAL OILS – or whatever Holiday scent you choose. Watch this for all the laughs and to also learn more about this!

Poo~Pourri Holiday Scents and Discount Code
Poo~Pourri comes in a variety of scents. But to keep our holiday theme in the bathroom going, I picked out these three Poo~Pourri Holiday Scents from their online shop:
Spiced Apple – a pure blend of apple, pecan, and citrus natural essential oils. This is my husband's favorite scent.
Merry Spritzmas® – is a blend of peppermint, vanilla, and citrus natural essential oils. We had family over a few weeks ago. And if I remember correctly, this is one of their favorites.
Secret Santa – be in the nice list with this scent featuring cinnamon, vanilla, and citrus natural essential oils. It was hard to choose but this is probably my fave. "Probably" because I feel like I loved all the Holiday scents that they have!
And guess what? You're in luck because I have a coupon code to share! Head over to their website to shop online. Enter the code STYLE at check out to receive 20% off! There's always free shipping on orders over $19.95.
How about you? How are you preparing your home and your bathroom for the Holidays? Do you have a tip to include here? Let me know because I'm always thinking of new ways to spruce up the home for the season. And if you also need help freshening up the bathroom (Who doesn't?), make sure to take advantage of my 20% off code STYLE. It may seem funny to include in a stocking stuffer, but it sure works! If you have a funny themed gift exchange, this would be perfect! They may laugh at first, but they will thank you in the days to come because it's a game changer.